This week is National Aotearoa Psychology Week, and we would like to take the opportunity to acknowledge and thank all of ABI Rehab's psychologists for the incredible mahi you do for ABI across the motu.  Assessments, interventions, therapy, behaviour support, risk management, supporting the rest of the rehabilitation team, we are so grateful. Psychology has such an important and valuable role within rehabilitation, both for clients, whānau and the rest of the rehab team.  
This annual celebration is led by the New Zealand Psychological Society and the initiative aims to increase public awareness of how psychology can help people, whānau and communities find ways to increase their psychological wellbeing. It also aims to raise awareness of the wide variety of roles that psychologists have in health, justice, corrections, educational and other sectors.
ABI has about 35 psychologists as part of our wider rehabilitation team (a few extra on sabbatical, parental leave and study leave). We have psychologists, clinical psychologists, neuropsychologists, and board-certified behaviour analysts who make up the psychology team. We have psychologists who only with children and those who work with adults. The psychologists have a wide range of experience in brain injury, disability, mental health, behaviour, trauma, research, teaching, working in hospitals, the community and in private practice.  The psychologists work across all ABI's services, Intensive Inpatient Rehabilitation, Community Services (home, school and work) and Residential Disability Services. When working with clients and whānau, the psychologists may work with them at ABI sites, at home, in the community, at school, preschool or Uni, work – anywhere that is meaningful and private enough for the session to take place and supports the client to engage in the sessions.  
Below is a little poster highlighting how the ABI psychologists support the client at different parts of the rehabilitation journey.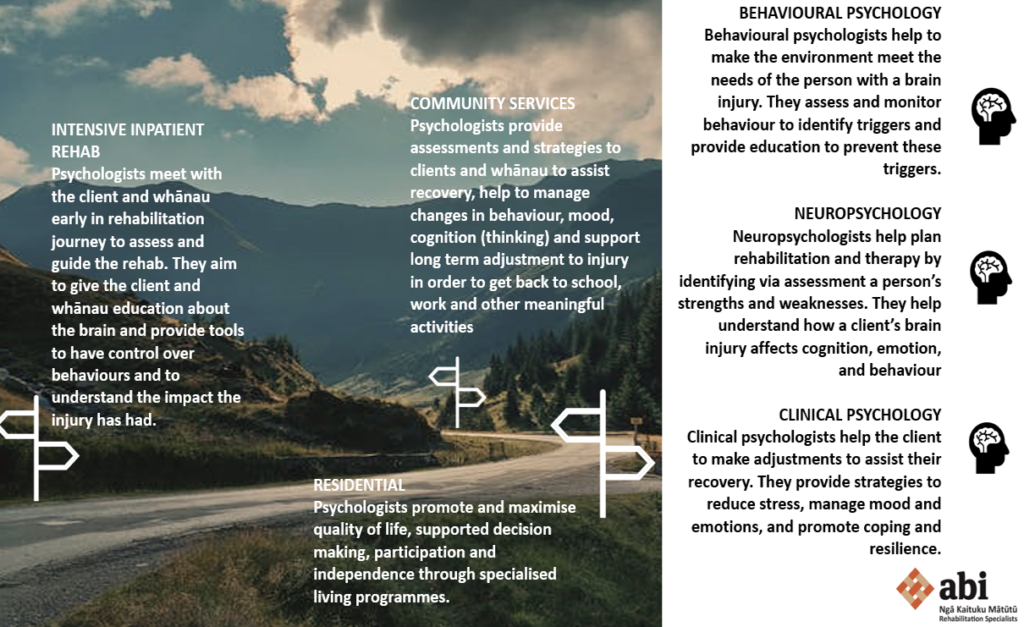 When we asked the psychologists what they loved about working in neuro-rehabilitation, this is what one of them had to say:
Chris, one of our Neuropsychologists, loves his role "because it's people work; it's varied – every person, family, the situation is different; it's detective work, it's creative – no two situations or brain injuries are identical, so every solution has to be tailor-made, and you get to help people face up to what can be life-shattering events, and work with them to put the pieces back together.
A few years back, I worked with a 13 year old young man who had been hit by a truck and hurled 50m down the road before he hit the ground head first. I was part of a team of therapists who worked with him and his family for about two years as they put his (and their) lives back together.
Out of the blue, about seven years later, I got a call from his mum, who rang to tell me that he had just graduated and was about to start his first job in his chosen career. You can't get better work stories than that."
ABI has a growing team of psychologists. Each and every one of the psychologists brings their own specialist skillset. The work is varied, challenging, interesting and incredibly rewarding. Are you a registered psychologist with experience in Traumatic Brain Injury, disability, trauma, behaviour, mental health and or rehabilitation for adults or children? We are always keen to hear from suitably qualified, experienced, registered psychologists to come and join our teams.
We can support with ACC registration and provide an interesting caseload of clients across community, inpatient or residential settings.
Feel free to contact hr@abi-rehab.co.nz to find out more